Meet Sandy Hayes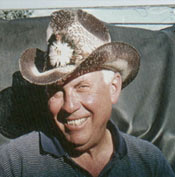 Sanford C. Hayes III, owner and sole principle of Sandy Hayes Realty, has been a full time licensed real estate agent since obtaining his first license at age 20 in 1963. He obtained a real estate broker's license, when first eligible at age 21 in 1964 and has continuously renewed that license since then.
In the 60's and 70's, being young and ambitious, Mr. Hayes was involved in every aspect of real estate in the local area including sales of camps, cottages, residential properties and vacant land as well as property management of many apartment buildings and purchasing tracts of land for the first shopping malls in Saranac Lake and Malone. He also did appraisal work for federal, state and insurance agencies for many years.
In the 1980's, Mr. Hayes began to focus primarily on rural land development and, to date, has designed, planned and developed 33 subdivisions involving 325 individual lots and 2000 acres in Franklin and Essex counties.
Today, the Sandy Hayes Realty office deals primarily with lands in the various subdivisions and select rural lots, camps, cottages and residences in the rural area of northern Essex and southern Franklin counties. Representing buyers seeking a special rural Adirondack property as a Buyer's Broker has also become a substantial part of the office business.
Being a native Adirondacker, Mr. Hayes has extensive knowledge of the area he serves and can usually help a serious buyer find their "piece of the park". His ancestors were among the original founders of Keeseville and Bloomingdale, where he lives and has his office in the seven-generation family homestead on the banks of the Saranac River.
If you are looking for down home country respect and fair treatment in your search for a piece of the rural Adirondacks, look under the cowboy hat and you'll find Sandy Hayes, the man who will give it to you.
These properties can be subject to errors, omissions or prior sale. All information, although believed to be correct, has been obtained from other sources and is not guaranteed.
Sandy Hayes Realty
You are the visitor. Thank You for stopping by.